Clutch for women with Ostrich leather – HD3466
$217,6 (-29%)
Product Code: HD3466
Design: Clutch with Ostrich leather
Color: Black
Material: 100% ostrich leather
Compare
Whether going to a party, going out or attending any important occasion, the ostrich leather wallet is also the right choice of ladies. 
Because it is made entirely from ostrich leather, the Huy Hoang Ostrich Leather Women's Wallet will be more durable than other normal leather wallets. Ostrich leather wallets can be used for a long time, if well maintained, they will always be like new and will not be outdated over the years. For that reason, ostrich leather wallets are not only hunted and used to increase self-worth but also used as gifts for loved ones, colleagues, partners to help strengthen relationships in the future. Work.
Ostrich leather wallets will be made from ostrich leg skin or ostrich skin. Each section of leather will produce leather wallets with different textures. Therefore, the product is very diverse with high aesthetics.
The ostrich skin women's wallet models are impressed by the pores inclined at an angle of 42 degrees to the surface and in the middle of the pores there is a hole through the skin. The notes look very nice, neatly distributed and very nice looking. In addition, during the dyeing process, the spots become slightly darker than the flat skin. When using hands directly in contact with the real skin, we will feel the roughness of the pores, but the grain is quite soft, not causing discomfort to the skin of the hands.

The ostrich foot leather wallet model is characterized by a large, hard strip of scales running along a beautiful straight line.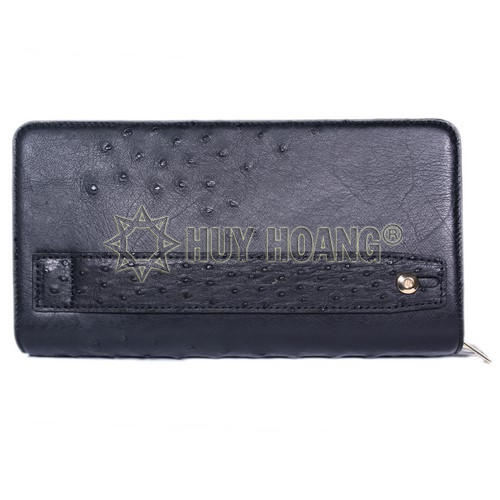 Huy Hoang ostrich microfiber is made from 100% real ostrich leather, the material undergoes modern processing, creating durability, beautiful skin surface. All are made by hand-made techniques, with the help of machine technology only in a few very meager stages. Because it is made by skillful hands, the sophistication of each product shows up quite clearly.
Huy Hoang ostrich leather women's wallet is luxuriously designed, belongs to the female folding wallet with many compartments, 2 large compartments with a small compartment with a side zipper, and many small compartments of different sizes outside, towards the Suitable for storing many different types of objects, there is an extremely attractive and sturdy magnetic lock button, helping you to safely store important items.